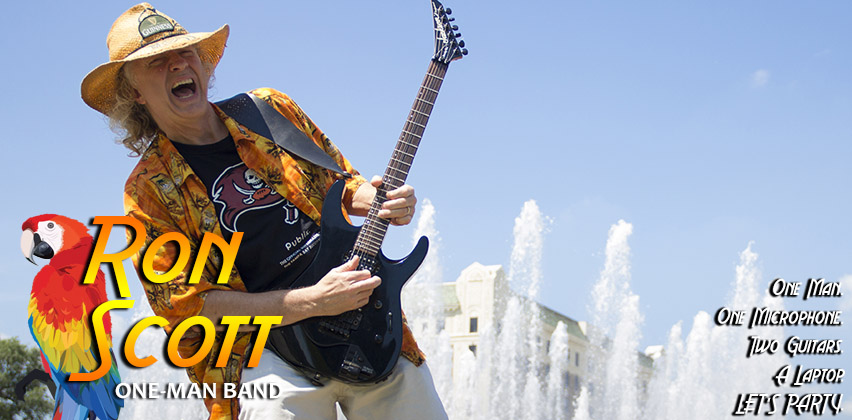 Born and raised in a small town in Iowa, Ron found his passion in music with his discovery of the Beatles. He took piano lessons for a couple of years starting at age 8, then switched to drums at 12. But the day he heard the music of Jimi Hendrix for the first time, he traded his drums for a 1968 Gretch electric guitar- and the rest was history.
He played with some high school friends in a garage band, which turned into his first real touring band following graduation from high school. Ron toured the Midwest with the heavy metal trio Gray James from 1977-1981.
In late 1981, Ron was approached to play lead guitar for a new band called ARTIST from Mason City Iowa. The band found much success traveling the Midwest from 1981-1987, performing at large clubs and events from northern Minnesota to southern Kansas. ARTIST was approached by the TV show Star Search, and opened for a number of national and regional acts before breaking up.
Upon the demise of ARTIST, Ron moved to Kansas City, where he re-joined two of the original members of ARTIST in a new band called Big Richard. This band reached a higher level of success than the previous band, opening for the likes of Foreigner, showcasing the famed Whisky in Los Angeles for producer Tom (Twisted Sister, Motley Crue, Cheap Trick) Werman, showcasing SXSW in Austin TX in 1993, being on rotation at all of Kansas City's A-list clubs, shooting 2 music videos, and producing 3 albums. Unfortunately, the recording industry's move toward alternative acts like Nirvana spelled the end of the band in late 1993.
In 1995, Ron began two very different music projects- Pontalion, which was a collaborative effort with the former keyboardist from Big Richard; and the alternative project Junior's Army, with longtime producer Kirk Kaufman. Pontalion was a jazz-fusion/new age instrumental project, while Junior's Army found some level of success when the nationally-syndicated radio show Dr. Demento began playing the band's original tune 'Peter Piper'.
In 1999, Ron began performing regularly in the Worship Team for a megachurch in Kansas City (average Sunday attendance- 5,000), which he did for several years.
In 2012, Ron joined Kansas City metro area band the Rocking Relics, playing Classic Rock by the likes of the Beatles, Creedence Clearwater Revival, and Tom Petty, at clubs all over Kansas City, which he still does at present.
And now- Ron has decided to create his own one-man band called Ron Scott which plays on a tropical theme, covering the big singles from artists like Jimmy Buffett, Bob Marley and the Beach Boys, as well as hits from the genres of Classic Rock, Country, and Oldies. Ron strives for an extremely diverse music setlist in order to assure that virtually everyone in attendance, no matter their age, will hear songs that they will enjoy. Contact Ron today for your party, special event, wedding, or club!